Last week I left the Adventure Rider Radio RAW show, the split is due to time differences.
For a while now I have been struggling to record the show so late at night and into the following day. Drunk, sober or in my sleep, I've never had anything very useful to say in the middle of the night. I felt my tired contributions didn't reflect well on me or the show.
However, sometimes if you jump you will find a net and I've been caught, saved and employed by Adventure Bike TV. I've been writing a column for them for the last 2 years and I don't think they will mind me telling you that, like for many of us, 2020 has been a hard year for them. But next year promises to be a good year, quite literally, as Dunlop have just commissioned a whole season Adventure Bike television AND a new show, Motorcycle TV. The real bonus is that unlike last season, now, if you are not signed up for Amazon Prime you will still be able to see the shows as they will be accessible for free via the Dunlop website.
So now with a bigger budget and enthusiastic sponsor the show moves forward into its eighth season and this is where I come in. The ABTV website is likely to get a revamp and my columns/articles are no longer going to be written word but videos. 'Views from the Shed' will be sponsored by 'The Adventure Bike Shop.' Yes, I know, there are a lot of 'Adventure' companies here but that seems to be the world I revolve around. The Adventure Bike Shop will also be sending products from their extensive range for me to review.
So if you are a bit confused here is the shortened version:
It's going to be a real, err, adventure? No, I'm just going in a different direction, which I suppose, in an overland motorcycle travel book often defines 'adventure'. I'm genuinely excited about this move and really looking forward to 2021 when these plans will come to fruition. It's the most fired up I've been since the release of Near Varna this summer. Which neatly brings me round to the other point of this newsletter.
It's bloody Christmas and you will be hard pressed not to be reminded of this from any of the sites you are subscribed to. Much as I like to try and be different, I feel it's my duty to follow tradition and associate the birth of the baby Jesus with blatant advertising of my products.
So, give the gift of travel to your locked down loved ones. Books, of course, remain one of the most popular gifts for any occasion, but I also cater for the 'e' types, all four of my titles are available as eBooks. For the illiterate there are audio versions of the books read by me, the author, panier box sets for the collector and finally for the fashion conscious there are my unique and striking T-shirts. This video gives you a little more information about the individual books
So, when you think 'Christmas' don't think ''Oh, ffs, what am I going to buy for '……'?'' Worry no more, your lack of inspiration when trying to conform to the consumerism of the season can all be taken care of here on my website.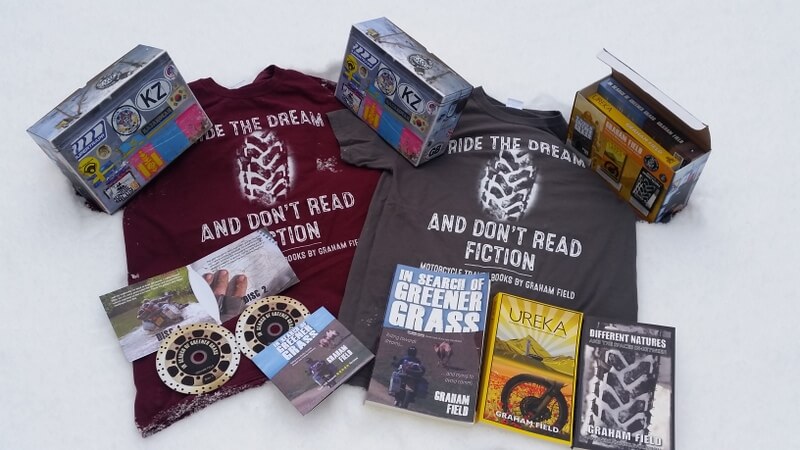 And with that hard sell out of the way I want to sincerely thank you for being a subscriber, following my travels and my 'career' as well as supporting me with your purchases.
I wish you all the best for 2021, I'm tempted to say it can't be worse but… actually I've got one more thing to say. Back in the 70's when I was a little boy my parents would buy The Sun… (wait for it) …day Times and I would always look at the magazine that came with it. One Christmas there was a cartoon sketch, I remember it so clearly. It was a picture of our planet and it was walking on two stick legs, looking over its shoulder at the year that had just passed, '73 perhaps it was. 1973 was defined as a whirlwind of fury and chaos that the strolling world had just left behind as it hopefully headed towards 1974. In the speech bubble our Earth was saying 'Thank God that's over!' and not looking in the direction it was walking. Beneath its feet on the verge of crossing into '74 was a banana skin. As I recall that sketch it reminds me there will always be something good and bad both ahead and behind. Looking back wistfully is an act of selective memory and we can't rewind, we've gone too far. So, let's look ahead with positivity and watch where we are treading.
Happy New Year
Graham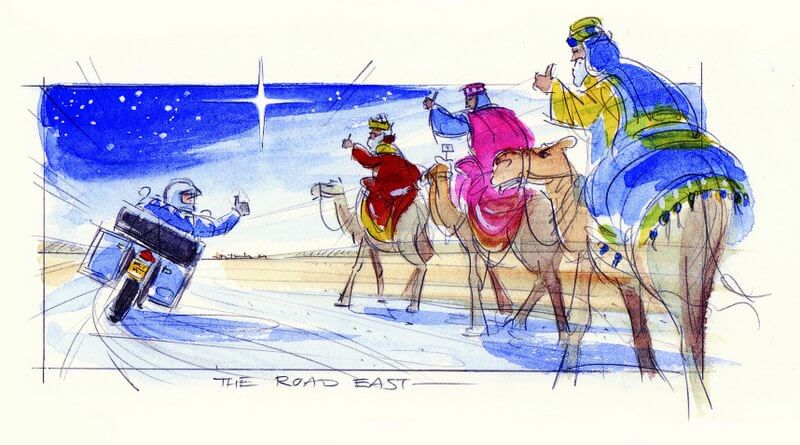 The Road East by SK Roberts. eBook version of his stories and sketches is available.