When my first book came out, I went to my first bike show as a trader as opposed to a punter. It was the (now defunct) BMF show in Peterborough. I put a bit of plywood over my Black and Decker Work Mate, covered it with a bed sheet and set up my very limited display. Behind me were a stack of 400 books under a blanket, ready to rapidly replenish supplies. I later learned a tenth of that would have been adequate but it shows the level of optimism I had.
By pure luck, because where my optimism fails my luck remains, the stand next to me was occupied by two guys who did a show every weekend all over the country and had been doing so for years. They sold a product that stopped your glasses from misting up. Their technique was to stop every spectacle wearing passer-by and offer to treat their lens for free with their unique formula. They then held the glasses over a steam machine and behold, the treated lens remains clear whilst the untreated one was opaque with condensation. Their clincher was, to get the other lens done you had to buy the special potion. They were such smooth operators, there wasn't a comment, negative or otherwise that they hadn't heard a thousand times and had a sure-fire direct hit retort to.
Over the weekend they took me under their wing and taught me a lot, they even went so far as to say to their customers of undistorted vision 'now you have such clarity of sight you can take a look at this lad's book'. It was a spectacular introduction to the show circuit, which, over the next five years,became my life, my income, and my social scene. I lived in my van every weekend, sleeping between stock and rapidly thawing precooked frozen meals, which doubled as refrigeration for my evening beverages.
It takes a while to learn what works at a show and what doesn't. I think the most frustrating thing is a bad pitch at a good show, you leave your lonely stand for a toilet break to find the isles are heaving but no one has ventured to your solitary, off the main drag, gazebo of inspiration.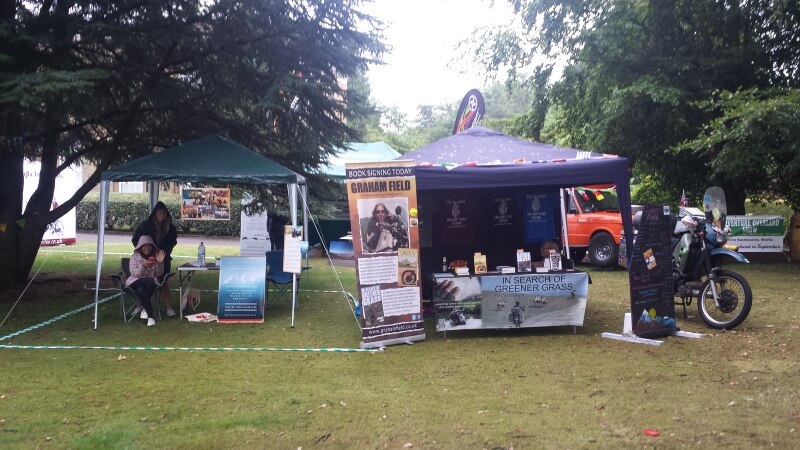 I got to learn the good value shows which were well advertised and attended, versus the unorganised and unknown. Some were so regulated I had to have public liability insurance and fill out a health and safety risk assessment form, for selling books? I suggested the wearing of gloves to avoid paper cuts and rounding the price up from £12.99 to £13, so in the event of the penny dropping when handing over the change a butting of heads could be avoided if a synchronised stooping to pick it up occurred. I mean FFS ask a stupid question…
There were shows that were swamped in rain but such adverse conditions bought about a comradery and were not in fact a failure, although the dampness made my covers curl and my hair straighten.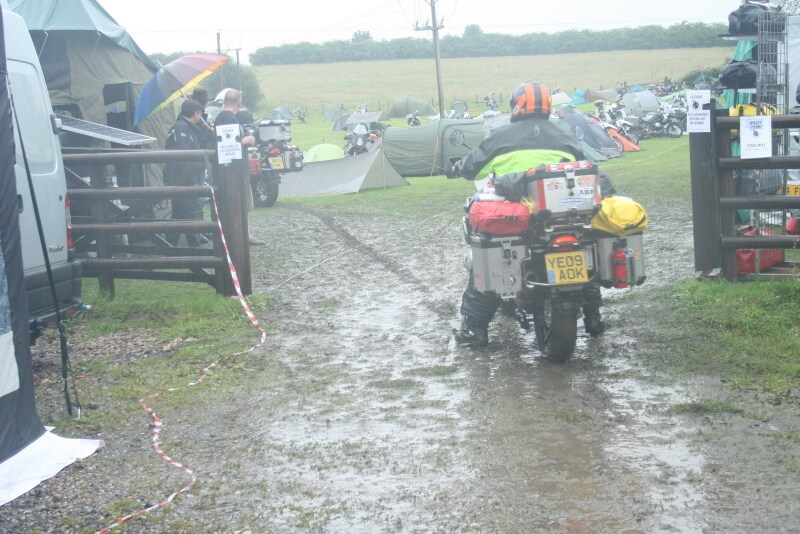 There were no clear-cut rules that made a successful show, I equally discovered that the most unlikely of passers-by would not pass but buy, and that I can never judge a book buyer by their cover.
There however is one clear killer of the consumer and that is the rip off show. The swindle starts in the car park with a disproportionate fee just for coming, and then again at the ticket counter. Attendees are seething with resentment before they even enter the show. It doesn't take long for them to vent on social media about the extortionate prices, the wider isles due to less trade exhibitors and the ridiculous price for a beer and a burger. I watch these unhappy people stomp past, there is little point in even trying to engage with them, they are so rightfully resentful, and it's unlikely I will sell enough books to recoup the very high pitch fee.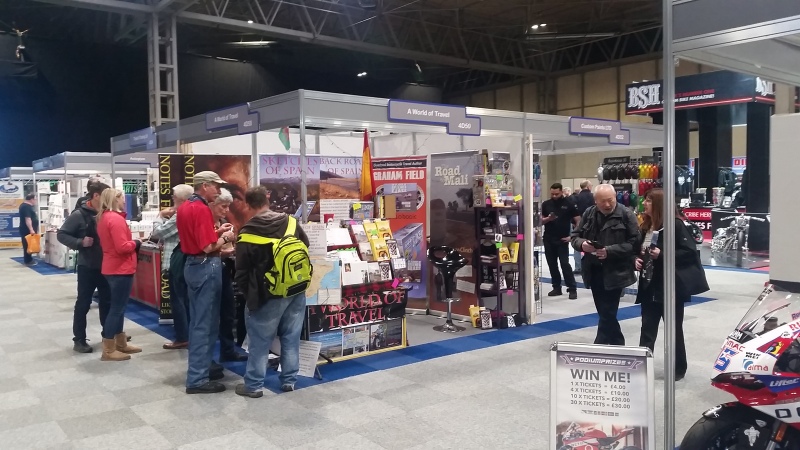 The answer to me seems obvious, yes, the organisers are dictated to by council and venue owners as to carpark fee and rental prices of the premises. Maybe I'm simplifying this, but surely though, if the organisers subsidised their overheads with free parking and a token entry fee, the word would be out all-over social media and the people would come flocking in. Reduce the beer price, everyone knows wallets open easier when lubricated with alcohol. Imagine a £3 pint and a £2 burger. The punters would be euphoric, they would bring more friends, stay longer and spend more, the traders would return, there would be more for everyone to see, it would be better value for all involved. At the end of the day the visitors, happily sitting in the back of the designated driver's car would feel compelled to Facebook about the fun they've just had, having just bought a Badlands Pro Jacket, some Metal Mule panniers and a Brough Superior to put them on. The enthusiasm would be self-generating and I honestly can't see how such a show would lose….and if it did, well it was dying anyway so let's put it out of our misery.
Seriously though, the solution seems so simple to me – treat the provider of your income well and they will reward you.
Be it a festival, a restaurant or a guesthouse, if you can find that magic ingredient to generate that elusive but all-important atmosphere, which prompts a smile to a stranger which in turn instigates a conversation, then that creates unification. An environment where basic costs of food, shelter and hydration are not of adverse concern to the partaker, the effort that went into the creation will be a source of reward, karmatic, fulfilling and almost definitely profitable too.
That's why I'm going to tell you of my two favourite shows and why they have this status; actually now I think about it, I've got a lot or favourite shows including the Ace Café Adventure Day for atmosphere, the Montenegro HU meet for sheer stunning top of the mountain location, but I'll narrow it down to my favourite UK autumn shows because that's what's relevant now.
My new favourite is the Adventure Overland Show in Stratford upon Avon this September. The organiser, realising that perhaps he hadn't catered for the 2-wheel fraternity as well as he might in previous years, offered free entry and camping to anyone who arrived on a bike for the Spring show. However, the weather didn't comply, the adventures didn't venture out, so he extended this generous gesture to this autumn's show too. So, you can turn up, enter for free, camp for free and attend all the seminars and presentations for FREE. Because the organiser has the foresight to keep the punter happy, knowing they will return. I went to the very first show and came back with more pictures of Unimogs and converted 4×4 motorhomes than bikes. Yes, to be honest it was a more 4-wheel (and even 6-wheel) orientated event. I think the numbers are about to even out because us bikers, we like free stuff, and anyway surely the definition of adventure is to explore and discover and I really enjoyed seeing the unfathomable bulk of the massive overland vehicles. As the drivers of those vehicles did, seeing out minimalist sticker clad pannier ways. It's a gathering of diverse long-distance vehicles that might only be seen at the Oasis in Mongolia or Jungle Junction in Kenya.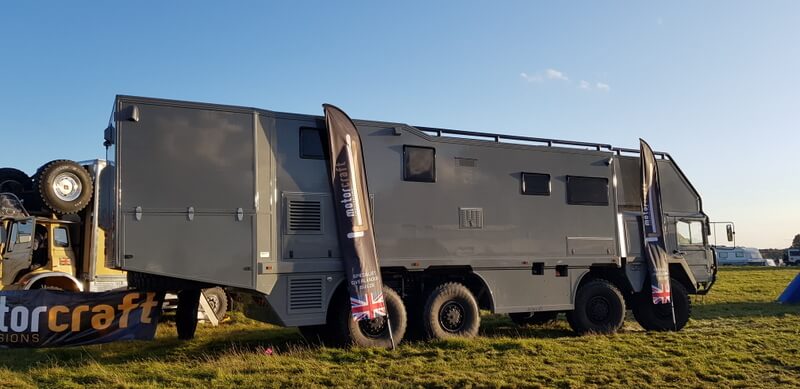 My other and long-term favourite is the Copdock show in Ipswich. I've been going there since it was held in the little hall in the Suffolk village of Copdock, when flat capped old boys with a rollie hanging out of their mouths would rummage through boxes of rusty obscure British bike parts with an encyclopaedic knowledge. In 28 years, it has grown to incorporate every aspect of interest to the motorcyclist, still an extensive autojumble, custom and classic show bikes, hundreds of trades stalls, music, stunts, displays. A bike raffle for a £1 ticket, drawn before the show ends. In fact, if the Red Arrows had 2 wheels, they would probably pass by too.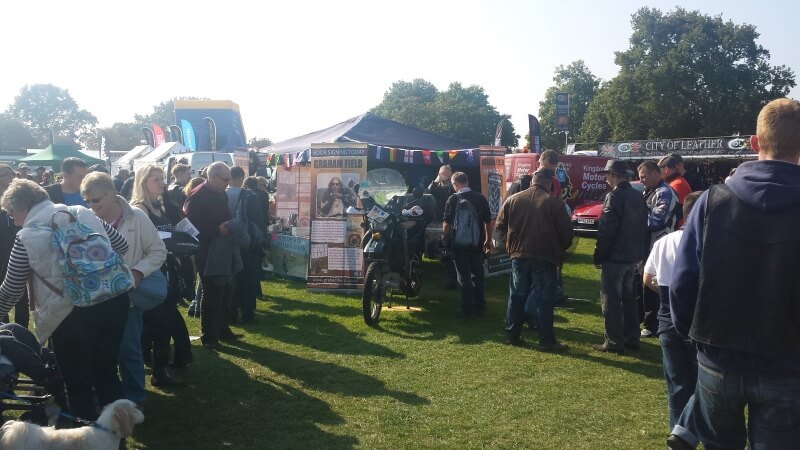 Best of all is the very reasonable price for traders and only ten quid to get in (less if you buy online). And on top of all that a large percentage of the takings goes to charity – about £50,000, after the expenses of the last show and next show are taken out; a lot of show organisers could do well to take note of this successful recipe.
http://www.copdock-cmc.co.uk/Events-TheShow.htm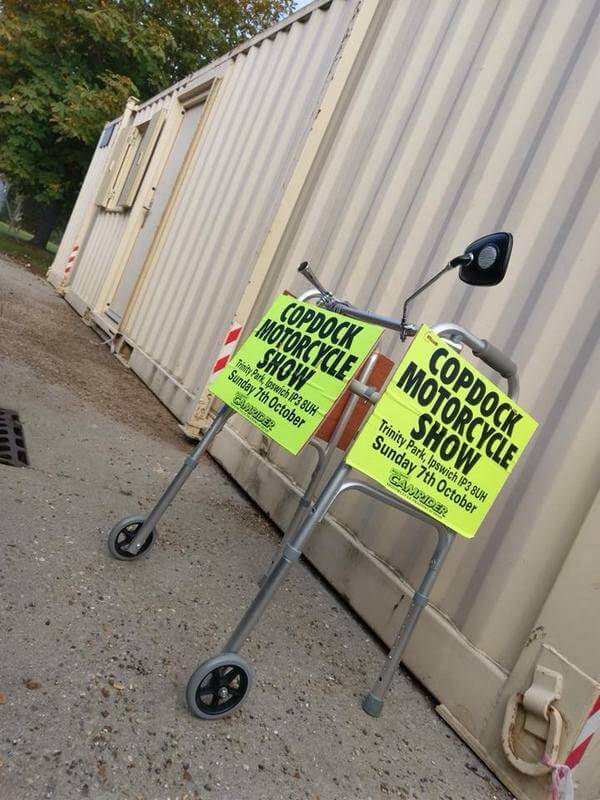 So that's where I will be this autumn, doing a presentation for free, to all whom attend for free at the Adventure Overland Show and at my usual pitch under the bright October sky for the Copdock show. These are the shows that work and are worth attending, for your own pleasure, for the benefit of the traders and ultimately to support the organisers of vision. Trust me, I've been to a few.