Finding the line between desire and contentment, then riding it.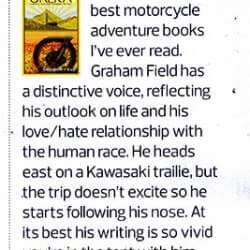 The road can be hard but harder still is resisting being drawn into this journey. Feel the thrill and despair as the author rides into heavily armed Iraq, barely unable to escape the overwhelming hospitality and humbling generosity.
Winding on down the road, despite being apolitical he becomes part of a street demonstration against someone else's government. Later alone on a Georgian mountainside, looking back in time, absent mindedly sticks his arm between the jaws of a wild wolf-dog.
How do you sum up a 15,000 mile motorcycle ride through 23 countries?
· Leaving the UK, Europe was in the way;
· Iraq was on the way, and worthy of a diversion;
· Turkey became an acquired taste;
· Georgia offered more diversity than one visit could cover;
· The Caspian Sea was a cause for reconsideration;
· A moment of planet-aligning proportions occurred and the journey found purpose;
· The Caucasus called him back for deeper penetration;
· Armenia was a rough diamond;
· Riding the Balkan backroads of former communist Europe, thoughts leaned towards living in Bulgaria;
· An old flame was rekindled in Austria;
· Climaxing in an Alpine finale;
· A French food extravaganza;
· And Iron Maiden topped off the trip.
Ureka is an almost accidental realization that we can't always control where the road takes us. However, accepting the direction, we find what we need to and that can be the most enlightening travel experience of all.
With a passport full of unused visas, the author turned his back on the Caspian Sea, but this U-turn was the eureka moment. Sleeping next to a dying kitten in a Russian truck scrapyard, everything he'd been fighting against fell into place, inadvertently his trip had turned around.
Subsequently he bravely penned this book telling what others dare not admit or mention, that long distance solo travel and living the dream is really hard. But as with anything in life, perseverance brings exclusive rewards to the dedicated.
"One of the very best motorcycle adventure books I've ever read. At its best his writing is so vivid you're in the tent with him, watching the sun come up, not knowing where you'll be to see the next sunrise." — RiDE Magazine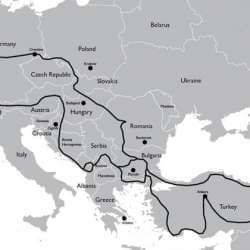 If all my experience had taught me one thing, I was buggered if I knew what it was. I had all the usual ingredients, my trusty KLR, a little bit of money, plenty of time and lots of new countries to ride through. In Azerbaijan I turned the plan and the map round. It wasn't just the journey that took a different direction, everything changed…
If there's one thing, I've learnt on the road it's that I never stop learning from the road. Some things are not meant to be and others are; the trick is finding the line between desire and contentment, then riding it.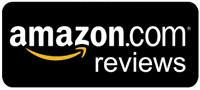 3 item combo special.
So, for example, buy a book, t-shirt and the 2CD audio book and da-daaa! you get a free replica pannier box. What do you think? Pretty good eh?