Finding the line between desire and contentment, then riding it.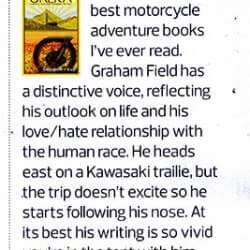 After the success of his first book 'In Search of Greener Grass', Graham Field hits the road again with his bargain-basement KLR650, recording his experiences in his inimitable and revealingly honest diary style.
Same bike, same distance, same meagre budget, different direction, big bloody miscalculation.
Second-trip-itus is a term that could be used to sum up the failings of this journey, but it wasn't really a second trip, in a lifetime of travel this was just another trip. However it was undertaken with a second book in mind, and that was the failing, a lone trip should not be to find subject matter but to figure out what matters to you. Having ventured through Iraq and about to cross the Caspian Sea from Azerbaijan he had an epiphany. The trip was not working, the mojo was not there, the reasons were wrong. With nowhere else to go he reluctantly and despondently turned around and unintentionally turned his trip around. Subsequently he bravely penned this book telling what others dare not admit or mention, that long distance solo travel and living the dream is really bloody hard. With more time and no particular place to go he slowly discovered the true value of spending time as opposed to his initial destination driven journey when time was obsessively saved. Consequently now he could dig deeper where previously he'd barely scratched the surface.
The result ensures a fantastic exploration of eastern Europe and beyond, the discovery of a hidden gem in Georgia and meanderings that leave us all much richer.
Ultimately, Ureka is an almost accidental realisation that we cannot control our mood on the road, but merely embracing this can be the most enlightening travel experience of all.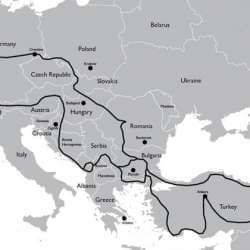 If all my experience had taught me one thing, I was buggered if I knew what it was. I had all the usual ingredients, my trusty KLR, a little bit of money, plenty of time and lots of new countries to ride through. In Azerbaijan I turned the plan and the map round. It wasn't just the journey that took a different direction, everything changed…
If there's one thing, I've learnt on the road it's that I never stop learning from the road. Some things are not meant to be and others are; the trick is finding the line between desire and contentment, then riding it.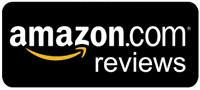 3 item combo special.
So, for example, buy a book, t-shirt and the 2CD audio book and da-daaa! you get a free replica pannier box. What do you think? Pretty good eh?