Where to next? That was my FAQ, then everyone stopped going anywhere and other questions arose: when are you recording Near Varna Audiobook? Well when I can travel back to England and the recording studio in Cambridge, which is 'where to next' in a different guise. However, my sound engineer moved house and I wasn't going anywhere.
While fiddling with a wireless lapel mic I bought for the video work I do for Adventure Bike TV and I considered that perhaps I could use this and record at home, or at least in the bike shed.
I spoke to my engineer and he suggested a recording programme called Reaper, it's a complex, expansive and clever programme, dauntingly so, but I found a YouTube tutorial and set it up. Read a trial piece from the book and listened back. It was a bit echoey and even with tools that adjusted echo, gate, compression, reverb, gain and other terminology I was previously unaware of, compared to a sample of my on Audible  this recording was very tinny and low quality.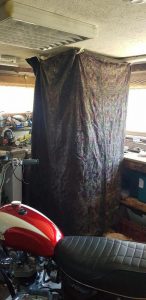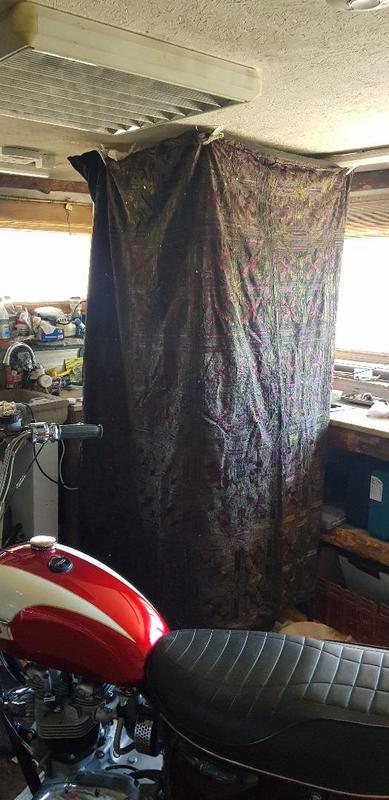 So I hung some duvets around me and an embroidered blanket I had bought in Rajasthan in '96 finally had a use. The difference was phenomenal, surrounded by the musty smell of India the quality improved dramatically. There is nothing like progress to produce encouragement. Then I broke a toe and, being somewhat incapacitated, I spent my time watching informative Reaper and recording booth building tutorials on the Booth Junkie YouTube channel, I even bought the t-shirt as a thank you and to support him. I was slowly learning this new audio language and mastering it quicker than I have Bulgarian, mainly because I see some logic in this Reaper programme.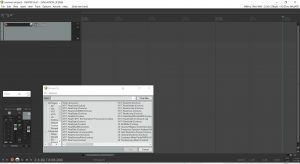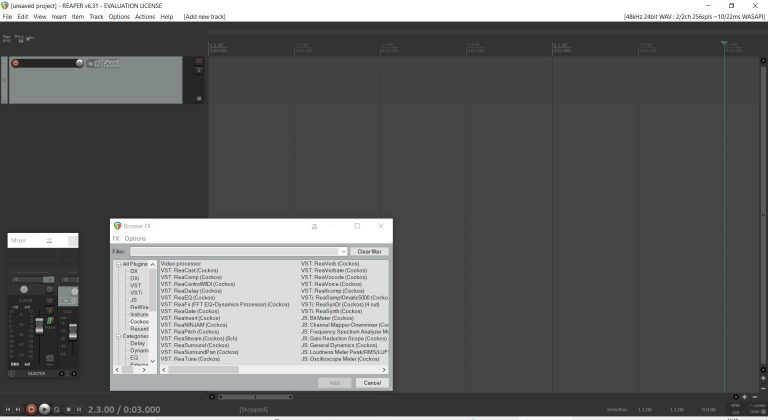 As is often the case, research tends to bring about the belief that you need the latest, state of the art, cutting edge materials or you will fail. I've seen it constantly in the overland motorcycle world, people paralysed by purchases and never actually getting away.
Well I, if not fell victim, did find realisation that I could do so much better with not much investment.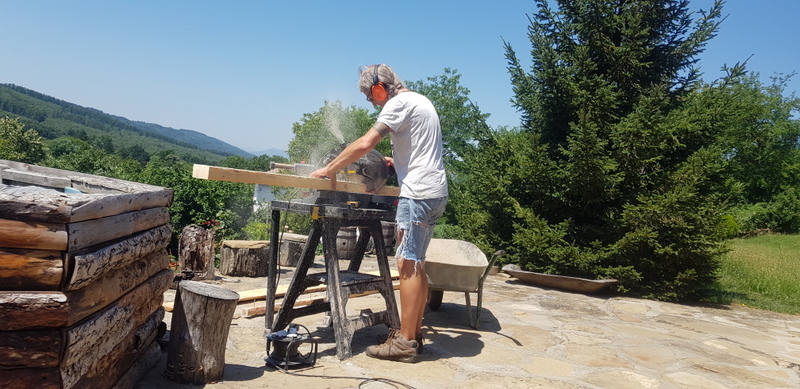 And so I decided to build a recording studio, I've read so many rock star autobiographies and there comes a point in their careers when they build their own studio in their rock star mansion. Well I'm not a band, not even a musician, I didn't need much space or equipment. So based on what I'd experienced in the UK recording studio I decided to utilise a dark and dormant corner of the bike shed and laid out some wood to estimate the surface area. At the same time I scanned eBay for the recommended mic and pre amp. What's going on right now on eBay is, a lot of lockdown projects are being sold off. I bought my Canon mirrorless cameras from someone who had attempted vlogging and failed, likewise I got the full audio monty, including mic stand and pop filter, for a fraction of the new cost. I kept tabs on my spending but I surmised that this is not money wasted: it can be sold on after I've finished with it.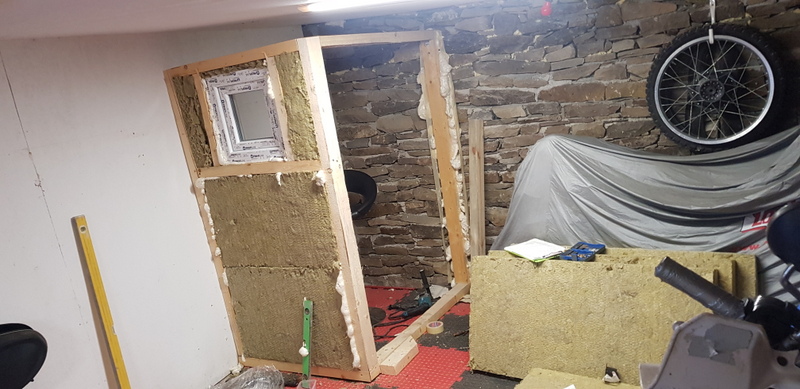 I bought a couple of windows so the box wasn't too claustrophobic and thus commenced the insulation from outside sound and inner echo. To prevent inhaling the flaking rock wool, I lined the booth with a membrane used for wrapping drainage pipes. The measured amount was unwound from the roll at the builders' merchants while I scurried round saying "Don't stand on it, it's not going underground, it's wall paper".
Much like any creation, even preparing the bike for a long trip, the pimping became irresistible, the plaster board got painted to match the floor.
Then on a trip to the seaside I noticed a tribal mural on an OSB beach bar, that would look great on my studio wall.
I first tried drawing the mural on a vinyl table cloth, it didn't go smoothly, the cutouts collapsed and the stencil sagged as I pinned it to the wall, with rising frustration it got torn down, the stencil not the wall.
I reasoned however that this is ultimately only a cubical in the shed and it doesn't have to be perfect. So I attempted the design free hand, first with a pencil I laid out lines like the aforementioned rock star, then progressed to the more permanent marker and finally committed to paint.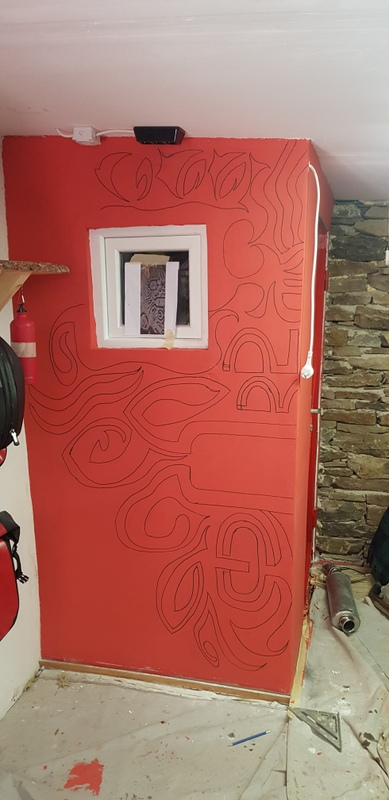 Anyway, this wasn't a tattooed tribal back piece, there was room for error.
It turned out pretty good, the problem was it had to be mirrored on the other wall.
So I took a photo of the completed half flipped it, printed it and endeavored to replicate it, it's not exactly a mirror image, the lines on this mirror lie, anyway after some reflection I realised it was more about the journey than the destination – I'd never painted a mural on a wall before, not even tagged anything with a spray can. With a good audiobook playing and no time pressure the process was a therapeutic and meditational experience.
It became an isolation tank and with the door closed the outside world disappeared from sight and sound. The laptop sat the other side of the double-glazed window so the whirl of the fan was inaudible and with pop filter and headphones I did my next test recording. OMG, I've got more bass than Barry White. The sound is as clear as mountain air, the clarity of Carribean Sea, and the purity and uncut.
However before I start reading the Near Varna and the new book Not Working there are two problems: the days are currently 40 degrees and I always generate a lot of heat when I'm reading. I'm very active with my emphasis and infliction and obviously I can't put a fan in there with me (well maybe a slim one if she's quiet).
). The other thing is, some hopeful developer has decided to start some futile restoration on the abandoned house behind mine, so there in the background is the drone of a cement mixer. With my head phones on and given the sensitivity of the mic I can hear the builders' voices even in my insulated booth. Back to the mixing desk programme, there has to be a way to drown out the frequency of their infrequent work.
And now I have the time, space, and equipment to record.
Where to next? The recording studio darling, I've got a book to read.
If you haven't already, subscribe for updates.