"Viking – Made in Pakistan", so about as Scandinavian as a chapati.
But that's ok, being influenced by a horde of ancient seafaring warriors from the frozen north is surely going to produce a hardy garment.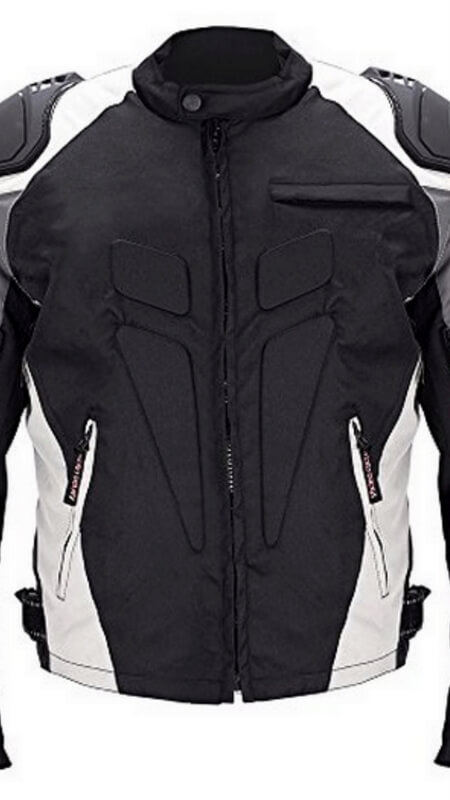 Now, at just about every bike show I attend in the UK I see the inevitable stalls of Asian imports. They always seem to be well attended by the bargain hunters, whom I assumed, were generally the sports bike fraternity. The riders who, with their fast and powerful ways, would pick up something petite and pretty to adorn the pillion seat. At the Asian import stalls, they could cloth their latest accessory with colour coordinated protection from their delicate little toes to their pretty little faces for under £300, and then rush them home to ride 'em harder than a borrowed Hayabusa on a track day.
But then what did I know, it was time to find out. Well first impression was my Hulk-like transformation when I put it on. Those shoulder protectors had me looking somewhere between a character out of "Dynasty" and an American football player, my girlfriend approved of the look so it's a winner on that level. The designers seem to have gone bit over the top with the specifically labelled pockets, I've got one for a knife, a phone, penholder, sunglasses… Still it's all useful if your phone is a nostalgic Nokia and your sunglasses have flexible frames.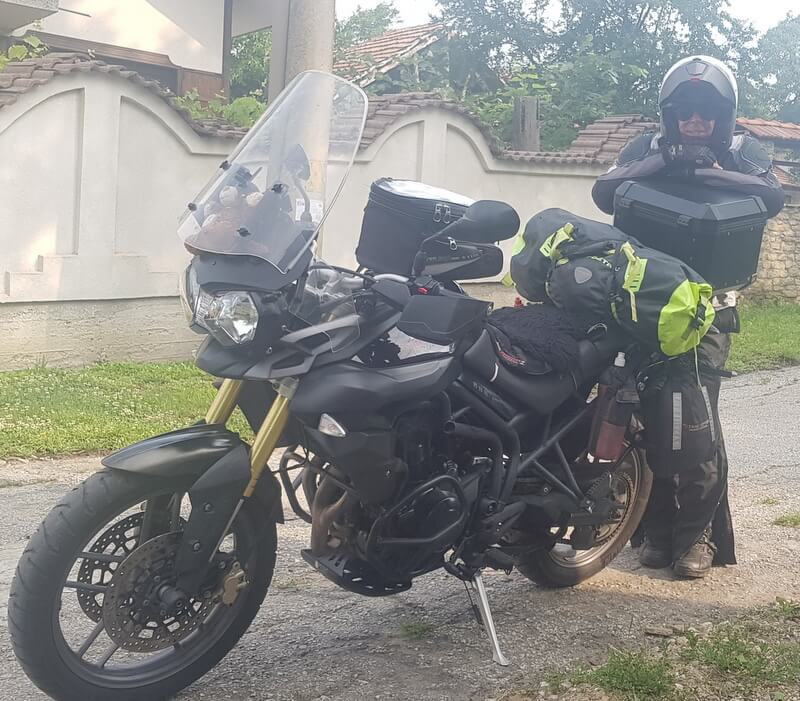 Designed for those who like speed, it said in the description. OK then, I got on my Thruxton R and rode over a mountain pass to my favourite omelette restaurant. It was warm, the weather, not the omelette, well that was too. So, I took out the liner for the ride back, yeah seems ok. I expect the manufacturers who gave it to me to test and review were hoping for a little more, so I got off the Thruxton, onto a Tiger (not an Asian one) and rode 5000 kms through Bulgaria, Romania and Ukraine, then back. Here's what I thought:
Well I have to say I have worn more prestigious and expensive outer bike clothing; I've worn used and useless too. And for the price of £70 I don't have much to complain about, it seems most needs have been realised and addressed. I started off in pissing rain, I didn't take the liner with me as it's June and in such areas, even at the top of the Carpathian mountain range, any precipitation was going to be warm. The jacket maintained its waterproof qualities. I didn't give it an all day soaking as the storms were intermittent, and I had a screen too. The rain passed or maybe I passed it and with barely a moment of transition the temperature went up to mid-30's° Centigrade and stayed there for the next four days.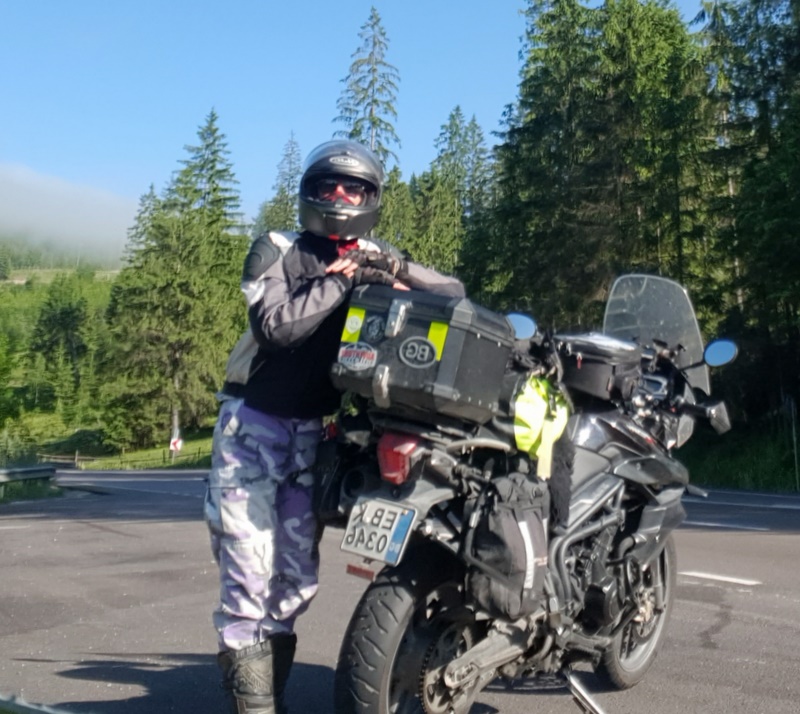 There are three vents on each side of the jacker, sleeve chest and back, they can all be reached not only whilst worn but whilst riding too. They seem to have some effect, particularly on a chilly dawn pass when I realised, I hadn't done them up and that's where the draft was coming in. The Velcro on the cuffs is adequate but around the neck spent more time flapping than fastened. The two chest pockets although not designated with a label were adequate for a smart phone on the right and important documents on the left. The single biggest annoyance was the linings behind the zippers that, without exception, vents and main front fastening, got caught in the slider. In the case of the vents, 2 hands were needed to free the zipper, as for the front zip, jammed chest high, the irritating temperature fraying my temper had me yanking hard, it seemed to free it up, I'm sure this could be done with more finesse but when it's over 30 °C and you've stopped to refresh, you don't want to be trapped in it like a straitjacket, I wanted freedom, release and liberation. Pulling sweaty arms out of a tight sleeve is tough enough but the jammed zipper was as frustrating as being stuck behind a caravan on a sweeping bend.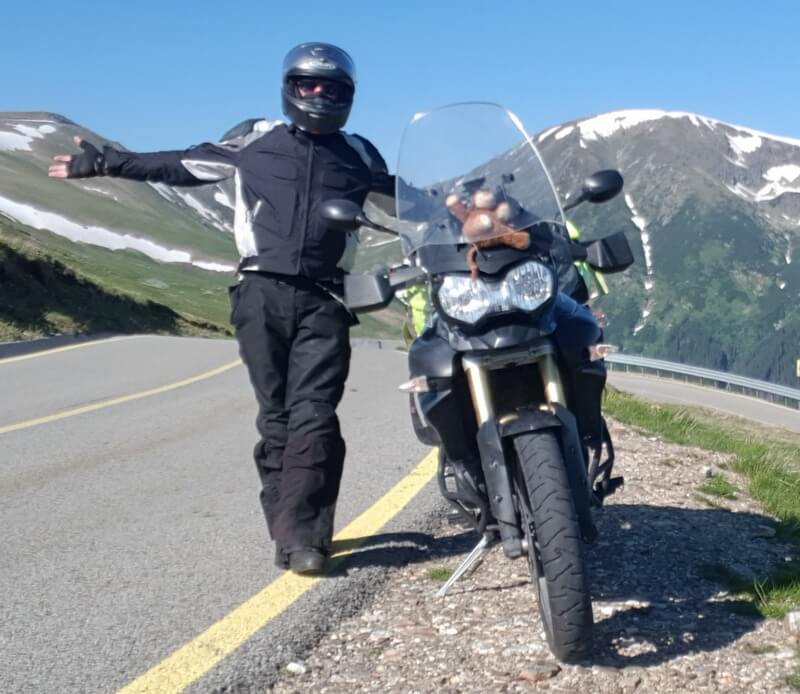 The rear of the jacket has an extended tail, again due to high temperatures I didn't feel its insulation and draft eliminating benefits only its creasing on the dry bag strapped on the pillion seat. The other protection, elbows, back and chest all seem adequate although I avoided any highspeed impact so didn't test them to extremes. The Velcro adjustments on the waist kept out a morning chill when I decided to avoid the heat and the crowds for a 6am ascent of the TransAlpina.
So, to summarise. 7 days, 5000kms, temperatures of 11-35 °C, inescapable blazing motorway sun, thunderstorm deluge and a few chilly dawns. I think it performed very well. The quality is perfectly satisfactory, the styling is actually quiet, well stylish and there are more pockets than a smuggler could fill, I'm not sure I'd want to use them all at once but you can find a zippable compartment compatible for a variety of valuables you want to keep close to your heart. So not really invasive, and indicative to burning and pillaging but the Viking jacket is worthy of good ride if not a horned helmet.