I thought it was additional packaging as it dropped out of the jiffy bag along with a pair of gloves to test. "Exotogg" it said, what is it? It had a plastic tube clearly asking to be breathed into, less intimidating than a breathalyzer, bigger than a whoopee cushion. It turned into a mattress with a hole in the middle, most strange. I suppose I'd better Google it.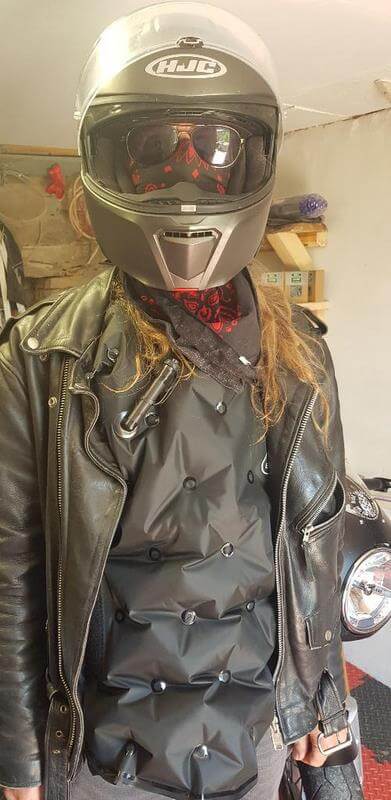 Ahh, so you can wear it, sit on it or sleep on it, and when you are not doing any of that you can roll it up so small that it fits into a jacket pocket. All this research was exhausting, so I put the Exotogg on my inadequate couch and laid down on it… Yep, it takes the discomfort away! That however is not its primary use. So, having watched a few YouTube videos of it out in the field, I filled it with air and poked my head through the central hole. I fastened the two Velcro straps around my waste and with only a t-shirt underneath, put my leather jacket on. I appeared desperately underdressed for the cold day I was about to ride into. Well what do you know? No windchill came through and my own body heat didn't escape! I was far warmer than the clothing I was wearing in the weather I was riding in suggested I should be.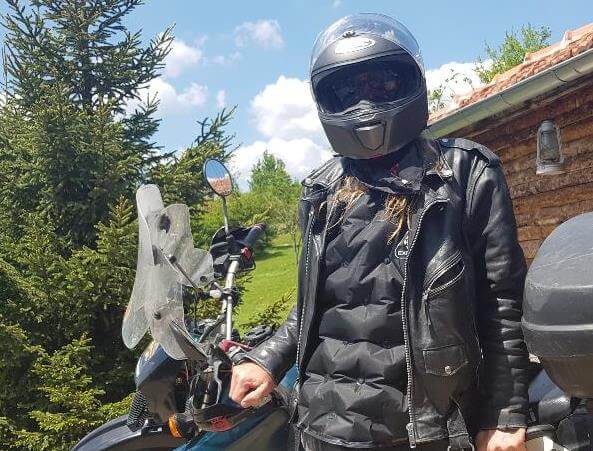 Now I've had plug-in 12 volt heated jackets and waistcoats before and lovely things they are too but what the Exotogg lacks in heating elements it makes up for with its element of ease. No wires, no sockets needed, nothing fiddly for numb fingers to fumble with, no need to remember to unplug yourself before you walk away from the bike. Its appeal is in its simplicity and its effectiveness. I've been wearing it regularly ever since, ideal for unpredictable spring weather, warm in the sun and chilly as soon as it goes behind a cloud. The only downside I see is that when I was walking round the supermarket with my jacket undone, I felt somewhere between a fugitive crash test dummy, a ship wreck survivor and an activated airbag.
I also wish it had a little tab sewn on so I could hang it from a coat hook next to my jacket. I don't want to deflate it every time although it only takes four breaths to inflate. I just want to store it without having to find a coat hanger as in my house such things disappear just like ponytail ties, lighters and pens.
It may lack style but its function is flawless. You won't be seeing the Exotogg in any poster depicting freedom of the road, the flowing hair, the wild landscape, the gleaming metal and packed panniers. It's an under garment and will never take centre stage. However as such, in fact especially when not in use, its unobtrusive and compact design shoots it high into my list of essential riding gear, either to set off in or keep under the seat for when I get caught out by an unexpected temperature drop.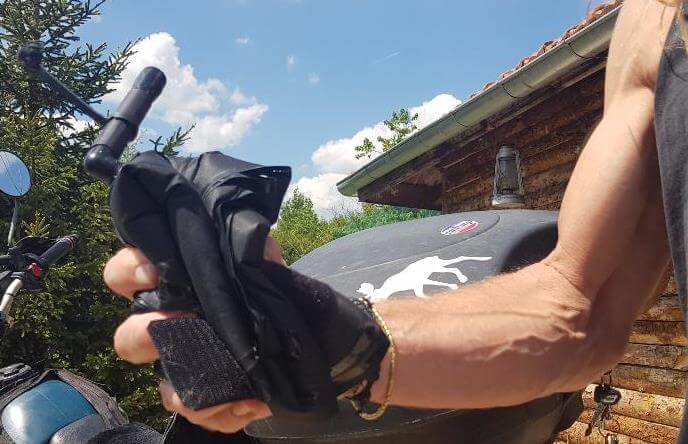 So ''Exotogg'' – I've written it 5 times now in this review and it's a clever name but it just won't stick in my head. I think they could have come up with something more catchy. Let's see, you blow into it and it does a good job, there has to be something there…
So, turns out it's not packaging, it's worth packing though. Not a novelty, not a gimmick, a really useful functional bit of kit.
Graham Field