Can gloves be described as exciting? They're not, really are they? They are either good or bad, comfortable or not, warm and waterproof or cold and wet.
A new phone may be exciting a new bike definitely is but gloves? However, I have to say I was more that mildly enthusiastic when the new Rev'it Livengood's arrived for me to test. Luckily it was cold out and pissing down, and it's a rare day when setting out in the rain is a preferable choice.
Rev'it say that the goatskin palms were designed to feel the benefit of your heated grips, check, that works. In fact I have never before felt the warmth when the grips were on low, however I was soon aware of heat radiation through to my fingers. Of course, the big selling factor is the Gore-Tex waterproof qualities. Now everyone has heard of Gore-Tex, right? But did you know that of all the waterproof fabric manufactures they are the only ones who demand that the product made with their trademark brand be given back to them to test, so their name is not put on substandard merchandice.
The gloves are layer cake of leather and textile, branding and technology, including a Primaloft insulation lining, a ripstop outer fabric, I'm not going to get any more technical that that, there is plenty of info out there on a need to know basis.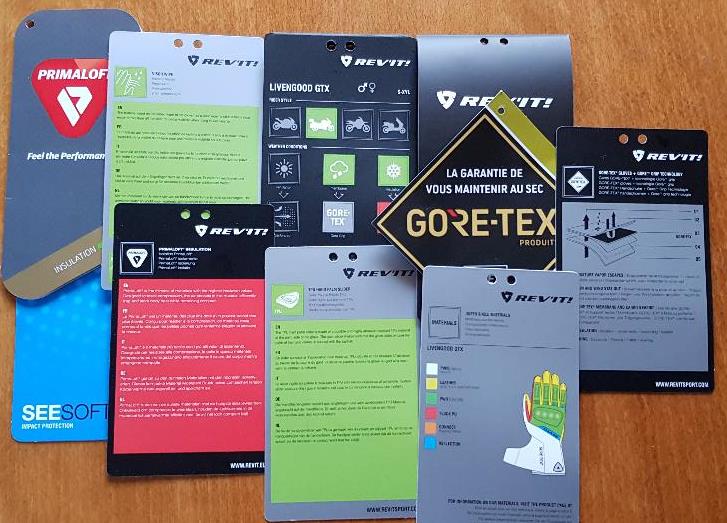 Meanwhile back in the real world, now as I say I was a filthy and how far am I really going to ride when, in all fairness this is only a test, my only destination is back home by the fire. Still, after an hour there wasn't a hint of dampness on my hands.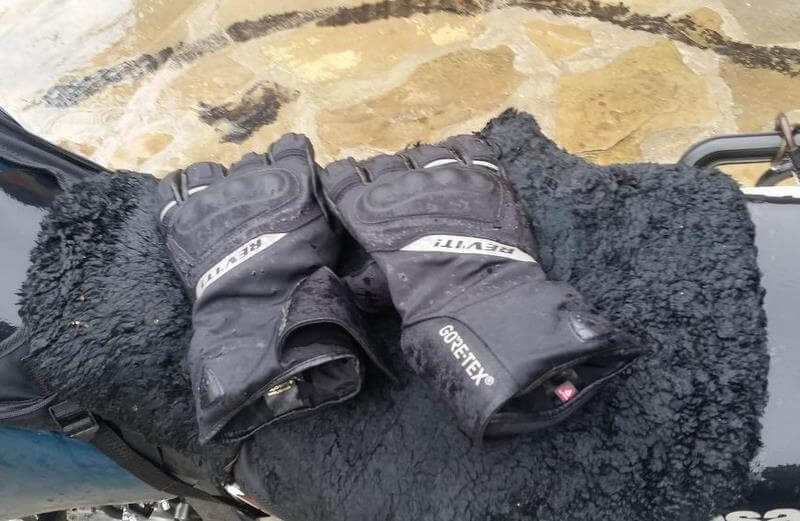 I stopped in town for a coffee and to try the 'getting the wet hand into a dry glove test', its still a bloody pain, wriggling fingers in a futile attempt to get them into the appropriate position. By which time your visor has misted up, and the special wiper finger is next to useless when it comes to clearing the inside of the visor. That's really not a fault of the glove its just a fault of riding in the rain, or more accurately stopping in the rain and taking off your gloves. The touch phone finger does work though if you like to stab at such accessories as you ride.
There are many complaints of the fingers of the glove being too long, if anything, for me I'd say there were a little short. Perhaps my fingers have stretched over the years of silently indicating to other motorists what I think of their observation abilities, ultimately you have to, as with any clothing see if it's comfortable for you.
The gloves have this fastening technology, cuff adjuster single motion closure system which frankly I see as a bit of a gimmick, in 35 years of riding I've never had a problem with Velcro fasteners, it's not that the system doesn't work, it just seems unnecessary. The reinforcement over the knuckle is reassuring, not that I got into an accident or a fight, no one wants to get too close to a saturated biker. The other reinforcement is the palm slider, again not tested but definitely adds to the feeling of protection against things other than cold and rain. For me I prefer a little more length in my 'gauntlet' perhaps my jacket is just a bit small for me but as the sleeve rides up, a space appears that invites drafts between the top of the glove and the cuff of the sleeve.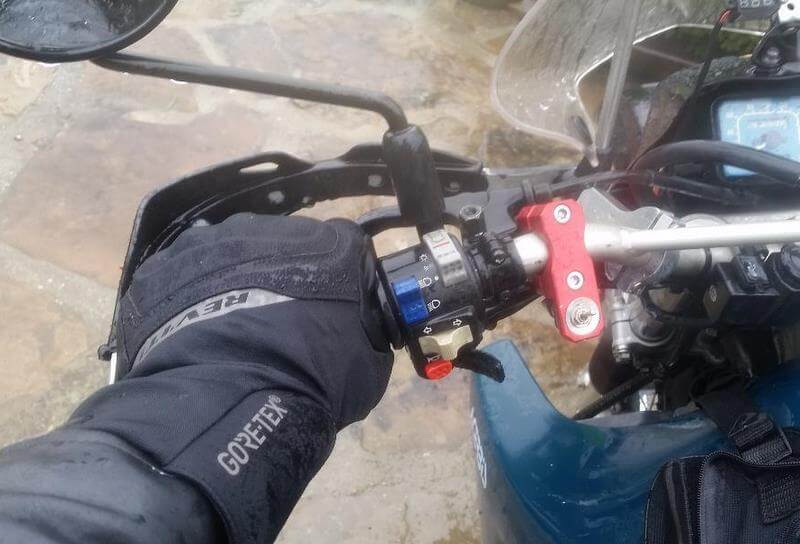 Supposedly the weather proofing stops them getting heavy with moisture but after the ride when I moved them around to photograph them, they seemed heavier, however more importantly that was not noticeable when I was actually wearing them.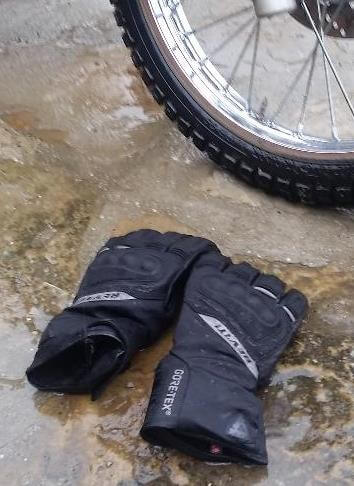 The comfort aspect? Well they are new, and I think with a bit of wear they will metamorphosise into the kind of clothing that becomes a part of you, and the quality suggests they will stay with you for a while to come. Its hard to sum up what could well be a long relationship after the first the date, but I think we have potential to cover many miles together hand in hand, and that prospect is quite exciting.